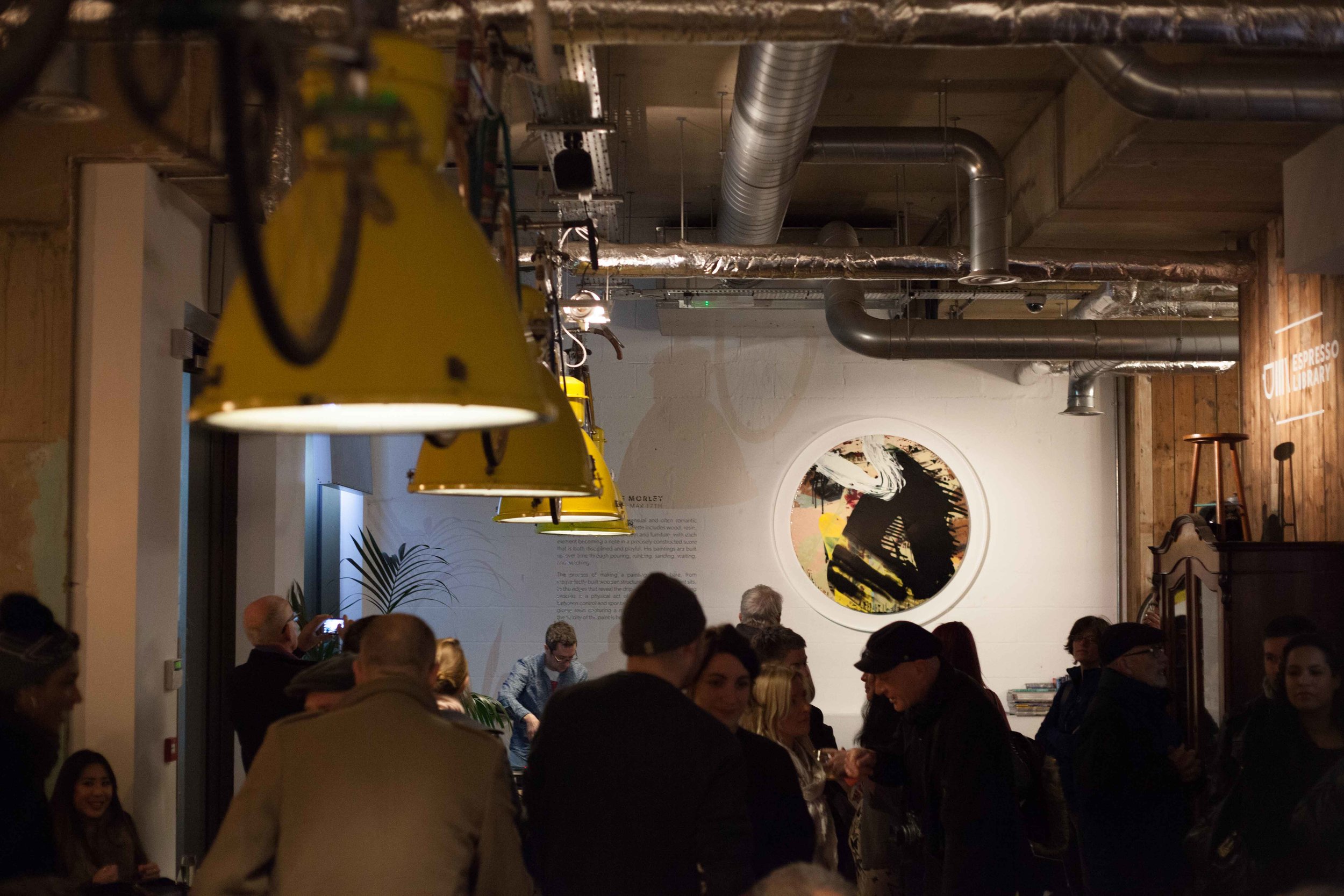 Check out what's on show & read more about our past exhibitions.
CURRENT EXHIBITION
A collaboration between Young & Battaglia Studio & artist Vincenzo Sgaramella.
23 March to 7 June '19
would you like to exhibit at espresso library?
For all art sales enquiries and to express your interest in exhibiting at Espresso Get please in touch with our curators:
IMMERSIONS IN LANDSCAPE
by Cheryl Warren18th December '18 - 20th March '19
'My inspiration has long been environments, both external and internal. There is an interaction between the two that is of constant interest to me. I spend my time walking, photographing and sketching, absorbing my place in the landscape. No light, weather, texture, wind, feeling, mood or day is ever the same…'
A trip to origin

BY THE COFFEE OFFICINA
November 20th, 2017 - January 31st 2018
A reportage from a trip The Coffee Officina took to Brazil, the biggest coffee producer in the world. On their trip they visited farms of various sizes in the states of Sao Paolo and Minas Gerais to select coffee for 2018.
OFFICE HOURS
BY JEREMY MULVEY
Sept 5th- Nov 19th, 2017
"Ever since I can remember I have wondered what Iwould do when I grew up. What was expected of me?"
OFF THE WALL
Sculptural Work by Heidi Lichterman & Sue Law

13 July – 31 August 2017
lACUNA
by Julie Sleaford, Chris Brown & Eleanor Breeze
Jan 14th- Mar 10th, 2017
"Lacuna" is a colaborative show featuring works by three exceptional artists, who recently graduated from their MA courses at Anglia Ruskin University; Julie Sleaford, Chris Brown and Eleanor Breeze. First time in the history of Espresso Library's exhibitions, we present you with several different media; painting, photography and sculpture. We're looking forward to seeing you at the opening, meeting the artists and enjoying this extraordinary show!
N52°12'11" E0°7'54"
by Jack Clearman and Anta Mainule
JULY 15TH - SEPTEMBER 8TH, 2016
This series is about crossing and melding identities.
Cambridge is built on people passing through, but where does that leave their identity? The sense of home may not be so clear, the borders become muddy and overlapping. This transition affects everyone in a different way, and the struggle with identity often falls short of the handful of characters our languages are built from.
LOUKAS MORLEY, 2016
JAN 15TH- MARCH 17TH, 2016
Morley presents a series of sensual and often romantic encounters with material. His palette includes wood, resin, paint, paper, found objects, cloth and furniture, with each element becoming a note in a precisely constructed score that is both disciplined and playful. His paintings are built up over time through pouring, rubbing, sanding, waiting, and watching.
Mineheart in Retrospect
July 28th - September 17th, 2015
Mineheart was founded in 2010 by local designers Brendan Young and Vanessa Battaglia. From their studio in the Cambridgeshire countryside they develop and produce collection of interior products that blurr the boundary between art and product design.
A CAMBRIDGE DIARY
BY MARTIN BOND
FEBRUARY 9TH - MARCH 16TH 2015
For nearly five years now, Martin Bond has been
posting a portrait photograph of Cambridge online each day. The collection now contains over 1700 photographs. This is the first exhibition of
'A Cambridge Diary'
CENTRE STAGE
BY FARUK KARA
16 OCTOBER - 11 DECEMBER 2018
Faruk Kara is a Cambridge based documentary photographer interested in performance. Whether a staged play, dance, musical rendition or concert, he aims to capture moments that are representative images in a much bigger "picture".
SCOTTISH HYDRO
By Toby Smith
Nov 5th, 2016 - Jan 12th, 2017
With its raging seas, wind-swept hills and high rainfall, Britain has more potential kinetic energy for capture than any other landscape in Europe. Nowhere is this concentration of energy more intense than the rich Scottish landscape where hydroelectricity has been providing power from the glens for over 60 years.
Paintings
by Emily Jolley
May 13th - July 13th, 2016
Emily's paintings are objects to be lived with. Their making embraces disorder, fixing surprises and movement to a surface, though the effect is controlled and meditative.
PAINT
by Channy
OCTOBER 30TH, 2015 - JANUARY 14TH, 2016
'PAINT' shows us a collection of works accumulated over the past five years as a result of Channy's ongoing exploration into a personal abstract language. There is a playful and illusionary aspect in the work characterised by both the narrative ambiguity of the titles and the cartoon-like visual dialogue, explicating the dichotomy between reality and fantasy.
The House Project
by Vincenzo Sgaramella
June 12th - July 28th, 2015
In my work I translate aspects of everyday life like houses, cars and trees as well as things which aren't visible like feelings, thoughts and concepts. To explore the essence of these, I combine reason and instinct through representational and abstract drawing.'
Stories from The Road
by Clement Hodgkinson & Toby Roney
11 May – 5 July 2017
Using their savings to travel, explore and document,
whilst wild camping or living out the back of their vans. The two 19 year olds have a thirst for submersing themselves into adventure. Their first ever joint exhibition focuses on the power of taking chances and doing things in the here and now.
#LeftTurn
by Manuela Hübner
11 March – 4 May 2017

Right-handed since childhood, Manuela was forced to use her non-dominant left hand in the summer of 2016. What became apparent was a lot of untapped potential.

Continuing to explore the left, she roamed through cafés and public places, sketching people.
BEN JOHN
Sept 9th - Nov 4th, 2016
"Painting for me is as much about the space around an object as the object itself." Exploring the distortion and fragmentation of an object, the eye can be misled by the shapes and shadows around it. In the momentary coming together of what exists and what does not exist, John creates a pictorial story of fragmented and disjointed happenings.
The GIANT Series
by Alexandra Cameron
MARCH 19TH- MAY 12TH, 2016
In the Giant Series, Alexandra creates her surreal images using giant props built by the photographer's parnter, William Conolly. The series is about merging the natural beauty of her surroundings with an element of fantasy to create a strange yet relatable world of magical realism.
WITHOUT A SOUND
by roeland verhallen
september 18th - october 28th, 2015
The series "without a sound" revolves around the vastness and emptiness of a metropolis; the fact that being surrounded by millions can still result in loneliness.
LOUKAS MORLEY, 2015
MARCH 18TH - MAY 3RD, 2015
Loukas Morley presents a series of sensual, and often romantic encounters with material.The world, often by chance, offers Morley material to work with; a tin of household paint, wallpaper brushes, discarded wood and furniture, a perfect moment, a thing observed, a space left vacant.