Following our passion for freshly prepared, vibrant and nutritious food, in the Summer of 2017 we set out to roll out dinner service at the cafe. Every Wednesday through to Saturday from 5pm Espresso Library takes on a candlelit evening look.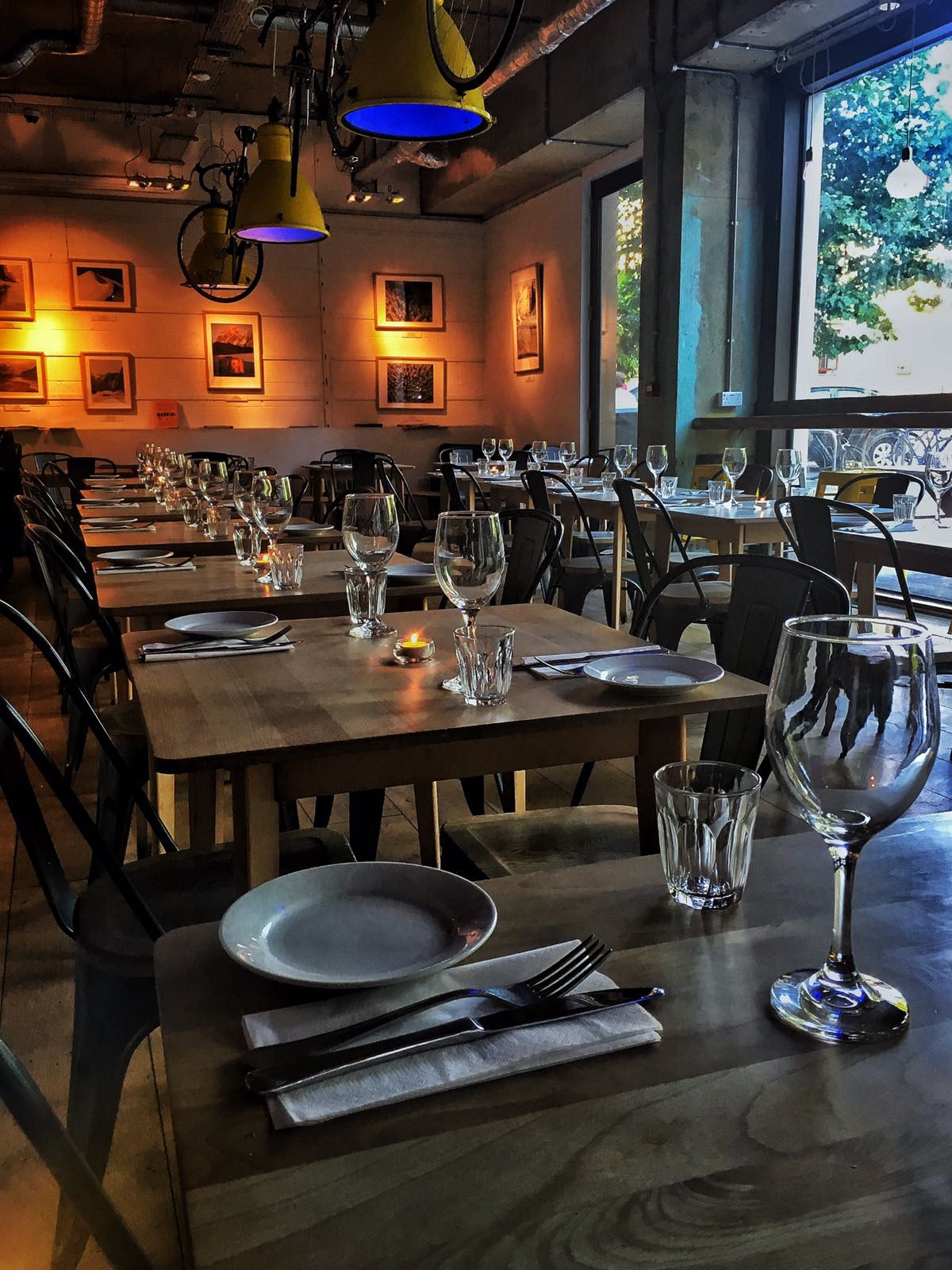 Evenings at espresso library
Open for Dinner & Drinks every Wednesday through to Saturday, serving food from 5pm onwards
£

6 /

£

10
VEGGIE PLATTER [VG, GFO]
mixed roast veg, hummus, olives, herb marinaded tofu or cheese, bread, olive oil + balsamic vinegar for dipping
£

7 /

£

12
CHARCUTERIE & CHEESE [GFO]
a selection of cold meats, olives, cheese or herb marinated tofu, olive oil + balsamic vinegar, bread
£

4
OLIVES & BREAD [VG, GFO]
Bread with olive oil & balsamic vinegar for dipping, a bowl of olives
£

7
SMOKED SALMON ON A BED OF A RADISH & CELERY SALAD [GF]
Locally smoked Chapel & Swan salmon, apple, radishes, spring onions ,shaved celery with a sweet & sour cream dressing
£

12
TUMMY LOVING BURGER [VG]
smokey tempeh, grilled portobello mushroom, sun blushed tomato & pistachio pesto, spinach, sauerkraut, organic toasted bap, side of coleslaw
£

19
E.L. STEAK [GF]
Sirloin steak (250g) from our local butchers rubbed with corriander seeds, served with spiced herby roasted baby potatoes & cucumber salsa
£

8.5
BLACK BEAN SUPER-SALAD [VG, GFO]
crispy carrots, bell peppers, kohlrabi, spinach, black beans, chilli, mango, creamy tahini dressing. (You can choose to add grilled halloumi or locally smoked chicken).
£

7.9
OUR FAMOUS FRITTATA [V, GF]
made using farm eggs, roasted sweet potato, spinach, sun-blushed tomatoes, & Greek feta. Served w/ salad.
£

8.9
SUMMER RAINBOW BOWL [VG, GFO]
quinoa, mange tout, courgette, radish baby spinach, julliened carrots & beetroots, hummus, avocado, mixed seeds, green peas, lemon vinaigrette (You can choose to add grilled halloumi or feta or 2 poached eggs or locally smoked salmon)
£

17
TUNA STEAK & HERBY LENTILS [GF, DF]
Pan-fried tuna steak, red lentils, coriander, spring onions & rocket dressed with a sweet white wine vinegar dressing & dairy-free mayo
£

7 /

£

12
CHEESE BOARD [GF]
A selection of cheeses from our local deli, oatcakes, chutney, fruit, celery & nuts
£

3 per scoop
JACK'S GELATO [VGO]
Ask which flavours we've got available today!
£

6.5
GOOEY BROWNIE & VANILLA GELATO [V]
White chocolate & raspberry brownie served with a scoop of vanilla gelato and fresh raspberries