Lacuna. Jan 14th- Mar 10th
CURRENTLY ON SHOW!
We are delighted to invite you to a very special Private View of a new exhibition at Espresso Library. It's a colaborative show featuring works by three exceptional artists, who recently graduated from their MA courses at Anglia Ruskin University; Julie Sleaford, Chris Brown and Eleanor Breeze. First time in the history of Espresso Library's exhibitions, we present you with several different media; painting, photography and sculpture. We're looking forward to seeing you at the opening, meeting the artists and enjoying this extraordinary show!

______

The notion of absence is the thread that binds the work of the three artists in this exhibition, who graduated in September from the MA Fine Art and MA Photography courses at Anglia Ruskin University. Through the media of painting, photography and sculpture each in their own way engage with the flaws in representation as a conduit to knowledge. Missing information creates gateways for the imagination, allowing the viewer to create new narratives and contemplate the unknowable.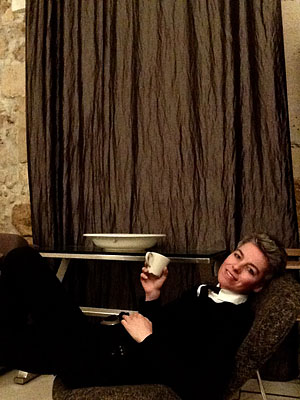 #LeftTurn | by Manuela Hübner | 11 March – 4 May 2017 |
COMING UP!
#LeftTurn
An exhibition of 125 left-handed portraits and new work by Manuela Hübner
11 March – 4 May 2017
Espresso Library, East Road, Cambridge

Opening Night Saturday 11 March 2017, 6 pm – 10 pm
All welcome

Right-handed since childhood, Manuela was forced to use her non-dominant left hand in the summer of 2016. What became apparent was a lot of untapped potential.

Continuing to explore the left, she roamed through cafés and public places, sketching people.

The popular Espresso Library – one of Cambridge's coffee, culture and art hubs – eventually became her preferred hunting ground. Here, the idea of a Wall of Faces was born.

The drawings on show were created over a period of three and a half months and document the journey of what happens when you explore, play and persevere.

They offer interesting insights into the peaks, troughs and plateaus of a learning curve whilst illustrating the stages of artistic style development and the sheer power of pursuing a vision.

The visual works will be accompanied by the artist's observations on differences and similarities between left-hand/right-hand use as well as some surprising incidental abilities.

The exhibition is also a tribute to beauty and human connections – to all the people who have lent their face to this project by allowing me to capture their unique features and character, and not least to the Espresso Library for taking a gamble with this unusual and organic enterprise.

All portraits will be for sale. A gallery of all faces can be viewed via the social media links on www.manuelahubner.com.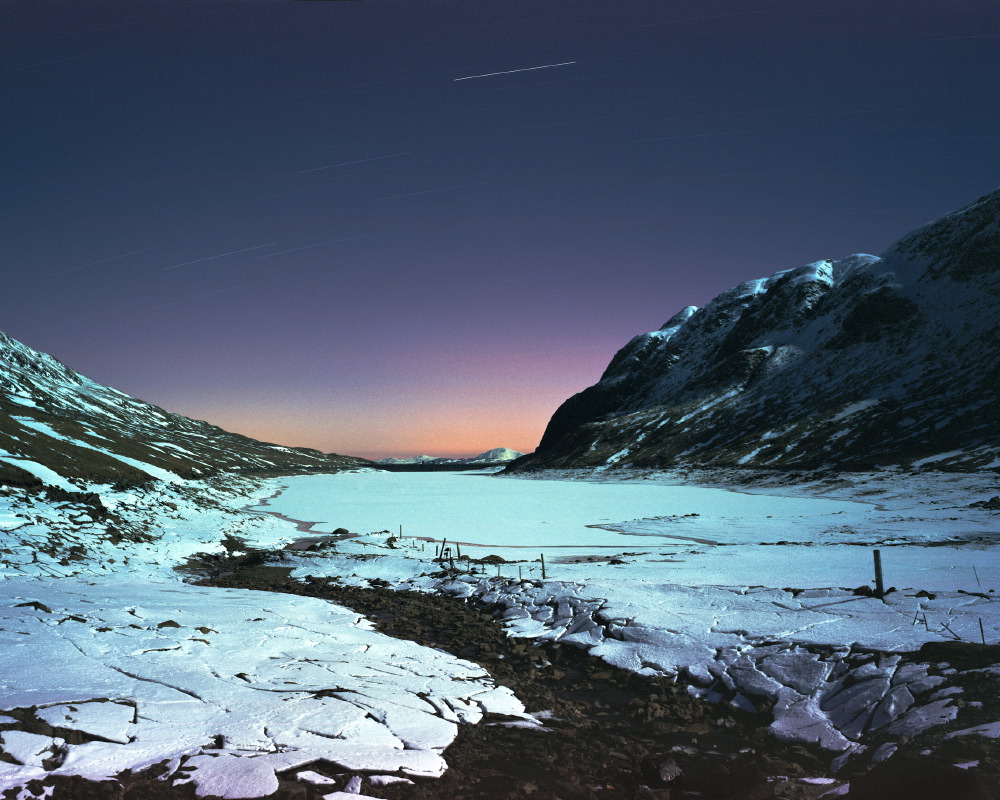 SCOTTISH HYDRO. By Toby Smith; Nov 5th - Jan 12th
With its raging seas, wind-swept hills and high rainfall, Britain has more potential kinetic energy for capture than any other landscape in Europe. Nowhere is this concentration of energy more intense than the rich Scottish landscape where hydroelectricity has been providing power from the glens for over 60 years.
The project was supported financially and exclusive access granted by Scottish Southern Energy (SSE) in 2010. Toby Smith worked closely with the communication and operations teams to research and safely access appropriate sites for the project based on aesthetic, scientific, cultural and historical significance. The project was conducted in the harsh winter of 2010 with Smith living and working from his converted 4x4 expedition vehicle. Much of the work is shot on Large Format Film with night exposures lasting many hours.
Many of the sites were installed and continue to operate in the manner to which they were constructed in a gargantuan post-war labour effort. A living, breathing example of British heavy engineering at its finest that now unwittingly forms a crucial percentage of the larger sustainable energy portfolio ofBritain.
BEN JOHN @EspressoLibrary, Sept 9th - Nov 4th
Artist Ben John studied Fine Art at Falmouth Art
College. He continues to work from his studio in Cambridge, creating oil paintings on canvas and panel. Over the last twenty years John has exhibited paintings in Cambridge along with exhibitions in London, Yorkshire and USA.
"Painting for me is as much about the space around an object as the object itself." Exploring the distortion and fragmentation of an object, the eye can be misled by the shapes and shadows around it. In the momentary coming together of what exists and what does not exist, John creates a pictorial story of fragmented and disjointed happenings.
N52°12'11" E0°7'54" by Jack Clearman and Anta Mainule | JULY 15TH - SEPTEMBER 8TH
This series is about crossing and melding identities.
Cambridge is built on people passing through, but where does that leave their identity? The sense of home may not be so clear, the borders become muddy and overlapping. This transition affects everyone in a different way, and the struggle with identity often falls short of the handful of characters our languages are built from. The approach of this work is to take on these feeling through multiple, blurred images from this place, that place, and ultimately a place we call our own.
Jack Clearman - My double exposure photos are an absolute mix of home. Using 35mm film, each image is exposed to light in Cambridge and my native Seattle, USA. In the process I lose track of which image will overlap with the other, and through this random mixing, a unbiased sense of home persists.
Anta Mainule - The feeling of belonging which stems from nationality is both intangible and finite. The further you tread deeper into new cultures, the sooner relationships with previous ones wane. Lomography offers a chance to echo the spontaneity this transition creates - the inevitable but paradoxical feeling of one sense of home fading into the next.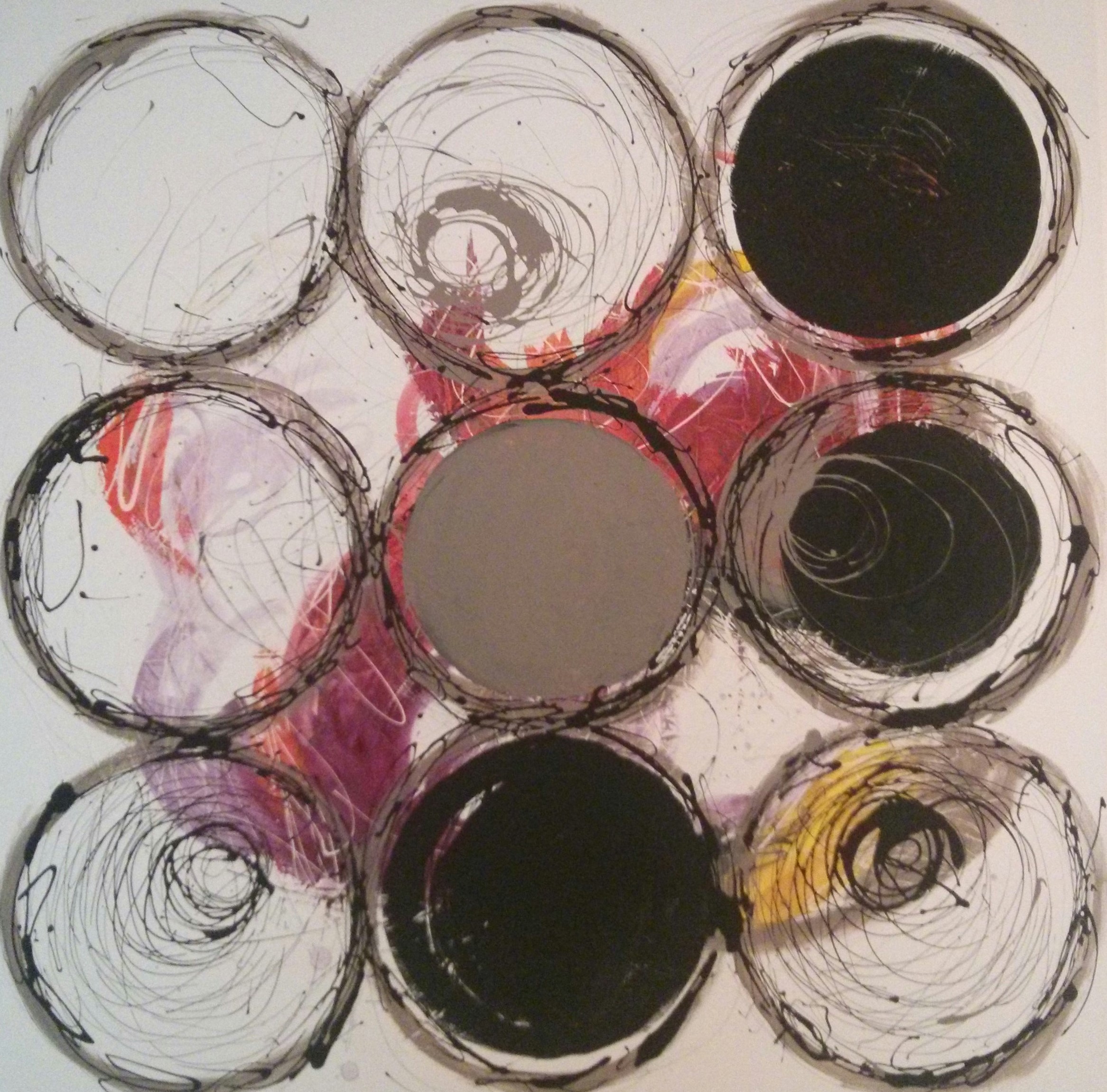 Paintings by Emily Jolley, May 13th - July 13th
Emily's paintings are objects to be lived with. Their making embraces disorder, fixing surprises and movement to a surface, though the effect is controlled and meditative.

Several of the works on show have been produced specifically for this exhibition and responding to the atmosphere of Espresso Library.
The GIANT Series - Alexandra Cameron - MARCH 19TH- MAY 12TH
At Espresso Library, we are presenting photographs from Alexandra's ongoing project "The Giant Series".
Alexandra creates her surreal images using giant props built by
the photographer's parnter, William Conolly.
The series is about merging the natural beauty of her surroundings with an element of fantasy to create a strange yet relatable world of magical realism.
Alexandra's love of the organic and unusual synced with William's talent for creating props and from this began the journey of "The GIANT Series".
A pivotal element of the series is capturing a true scene in front of the camera and forgoing the use of heavy manipulation in Photoshop, therefore everything you see in the image is real. The series is also a story of collaboration with make-up artists, hair stylists, florists and models, as well as all those who helped with design and construction.
LOUKAS MORLEY | JAN 15TH- MARCH 17TH
Morley presents a series of sensual and often romantic encounters with material. His palette includes wood, resin, paint, paper, found objects, cloth and furniture, with each element becoming a note in a precisely constructed score that is both disciplined and playful. His paintings are built up over time through pouring, rubbing, sanding, waiting, and watching.
The process of making a painting is laid bare, fromthe perfectly built wooden structure on which the paint sits, to the edges that reveal the drips. Each stage in the making process is a physical act of movement and a balance between control and spontaneity, each layer of seductively glossy resin capturing a moment of possibility in which the fluidity of the paint is held static.
PAINT | by Channy | OCTOBER 30TH - JANUARY 14TH
'PAINT' shows us a collection of works accumulated over the past five years as a result of Channy's ongoing exploration into a personal abstract language. There is a playful and illusionary aspect in the work characterised by both the narrative ambiguity of the titles and the cartoon-like visual dialogue, explicating the dichotomy between reality and fantasy.

The nod to popular culture and Impressionism here is captured through the emulation of the anthropomorphic energy from the movements' grace, set against waves of vibrant repetition and motifs that bring the composition to a dynamic, albeit precarious whole. This inquisition far removed from his figurative work has resulted in the fascination by the impact of drawn lines, colour and cohesive ambience, suggesting a deep affinity with the application of paint, which is perhaps his primary subject.
without a sound | roeland verhallen | september 18th - october 28th
The series "without a sound" revolves around the vastness and emptiness of a metropolis; the fact that being surrounded by millions can still result in loneliness. The single character that is consistently present amplifies the solitude, yet it is not solely desolation that is conveyed: despite the wide-angle shots, the photographs contain a certain introversion and vulnerability. Against a backdrop of soulless shells of immense proportion stands one person engaged with something trivial – a spool of tape, a piece of string – in an attempt to carve out a small space he might call his own.
Roeland Verhallen (b.1989) is a self-taught photographer and recently completed his doctoral thesis on visual perception, at the University of Cambridge. By combining his photography with his academic research, he creates photographs that question the fundamental rules of observation. Intrigued by themes such as time, transience and ancestry, his meticulously planned photographic series are multivalent and rich in symbolism
Mineheart in Retrospect | July 28th - September 17th |
Mineheart was founded in 2010 by local designers Brendan Young and Vanessa Battaglia. From their studio in the Cambridgeshire countryside they develop and produce collection of interior products that blurr the boundary between art and product design. Their playful approach and eccentric British style is clearly visible throughout their work which includes lighting, accessories and wallpaper. In the past 5 years the company has grown from a home based business in to an international design brand. You can find their products in places such as Liberty's, Harrods, Phillipe Starck hotels and of course the Young & Battaglia designed interior at Espresso Library!
The House Project | Vincenzo Sgaramella | June 12th - July 28th, 2015
In The House Project, Sgaramella invites us to dwell upon the architectural as well as personal and emotional concept of a house. In the theoretical aspect, work presented here is inspired by the Expressionist Architecture; going beyond function, focusing on the relationship between the architectural creation and the individual, emphasising the architect's role as an artist whose work is done on paper.
The large paintings play with the the exhibition space. The precise perspective together with the use of strong contrasts between light and dark create a unique effect; we experience the paintings' attempt to negate two dimensions of the canvases and even the walls of the cafe, creating imaginary spaces and interiors.
In my work I translate aspects of everyday life like houses, cars and trees as well as things which aren't visible like feelings, thoughts and concepts. To explore the essence of these, I combine reason and instinct through representational and abstract drawing.
LOUKAS MORLEY | MARCH 18TH - MAY 3RD, 2015
Loukas Morley presents a series of sensual, and often romantic encounters with material.The world, often by chance, offers Morley material to work with; a tin of household paint, wallpaper brushes, discarded wood and furniture, a perfect moment, a thing observed, a space left vacant.
Found material, loaded as it is with history and symbolic meaning, is woven into the artist's visual language. The artist's skill lies in revealing the beauty of such material by acting upon it in harmony with its nature.
Along the way, as you allow things to happen […]
you understand yourself through
the things that emerge.
Loukas Morley, 2015
A CAMBRIDGE DIARY BY MARTIN BOND | FEBRUARY 9TH - MARCH 16TH 2015
For nearly five years now, Martin Bond has been posting a portrait photograph of Cambridge online each day. The collection now contains over 1700 photographs. This is the first exhibition of
'A Cambridge Diary'
I think there is a value in our paying attention to each other. We all believe in our right to privacy, and even noticing each other can be seen as intrusive. Yet in that insistence on our privacy, we can also lose something. What I do isn't meant to be intrusive, and is rarely taken that way. On the contrary, generosity and civility seem to me to be on the rise in those moments when I take the trouble to notice other people. This makes me happy.
There are countless moments that pass into oblivion by the minute, ordinary ones and extraordinary ones. That can't be helped, but I can least make the effort to capture one moment, once a day, in one town.
Martin Bond